Connect to nature. Connect to yourself.

Stay at Jungle Hub completely immersed in nature and give yourself the opportunity to reconnect to the essence of what you are
Nourish body, mind and soul with healthy and delicious
homemade food that comes directly from the farm to the table
All our meals are vegetarian, made directly at the farm
with fresh ingredients and served family-style with love
---
Experience the natural beauty of the rainforest, as we take
you on a guided tour to the beautiful waterfall that is hidden
at the bottom of our property

Swim in the fresh water surrounded by pristine nature.
Sit down on the rocks, enjoy the sun and get quiet as you listen to the sounds of the waterfall
---
Learn about sustainability and off-grid living at our Permaculture Farm Tour, where we will show you how we have organized ourselves by creating our own, independent systems in the middle of the jungle

See how we turned this once degraded land into a beautiful oasis
with a food forest that hosts more than 50 different species of fruit trees and a natural pond

Permaculture is our method and philosophy that influences all aspects of our lives at the farm – from the way we organize the gardens to the way we design buildings

---
Stay completely immersed in nature at one of our two lodging options
Option 1: The Jungle Hub Guest Room
The brand-new guest room combines comfort with sustainability in a 40 m2 living space, which includes:
comfortable queen-size bed with organic cotton sheets and a cozy blanket
private bathroom with luxury compost toilet and hot shower
breathtaking mountain views
private balcony
wardrobe with space to hang your clothes
living area with a sofa
big windows
natural wood & bamboo elements
---
Option 2: The Rancho
The Rancho is a simple structure made out of wood & bamboo. It offers a more adventurous experience perfect for one person or a couple!
The Rancho includes:
comfortable queen-size bed overlooking the jungle
kitchenette with drinking water
solar power
dining / working table
little sofa
patio & outside furniture
compost toilet & jungle shower
The Rancho is the place to stay if what you want is to experience nature more directly. Here you have a greater chance to see and hear wildlife, see the setting of the moon and if you are lucky even see a shooting star from bed!
---
Nature Retreat Package
includes:
Pick-up & Drop-off in San Ramon city
7 Nights of Accommodation
3 Meals a day
Permaculture Farm Tour
Waterfall Hike
Night Walk

Option to add Yoga Classes & more

Prices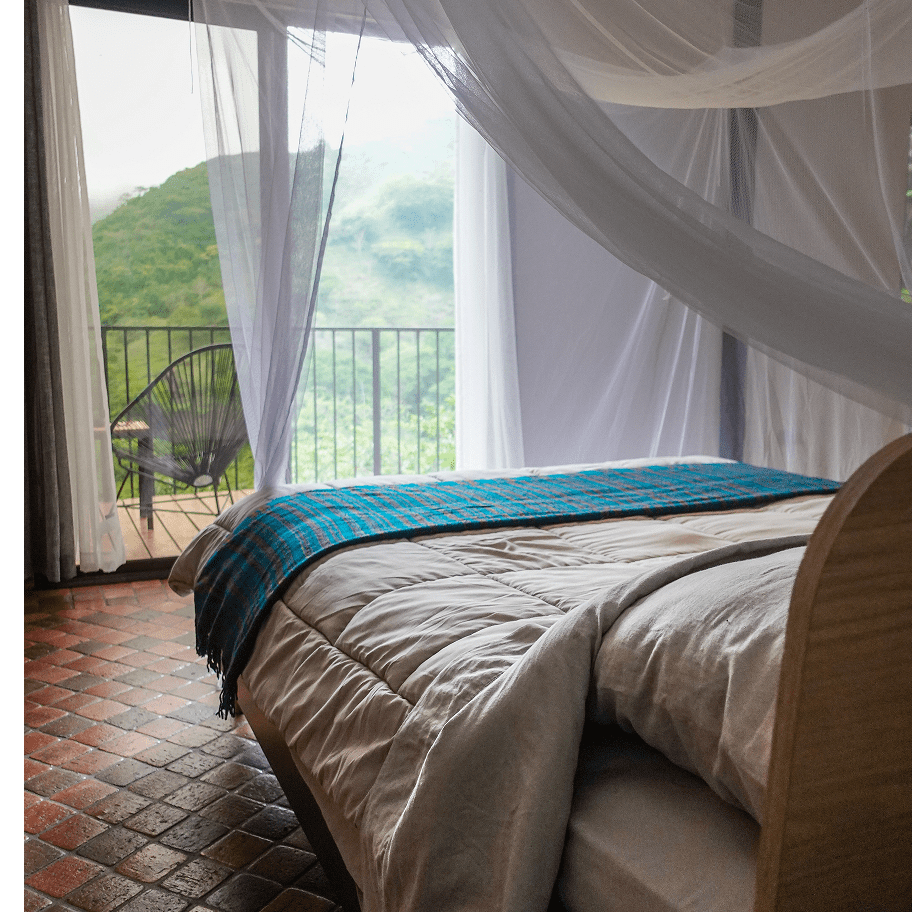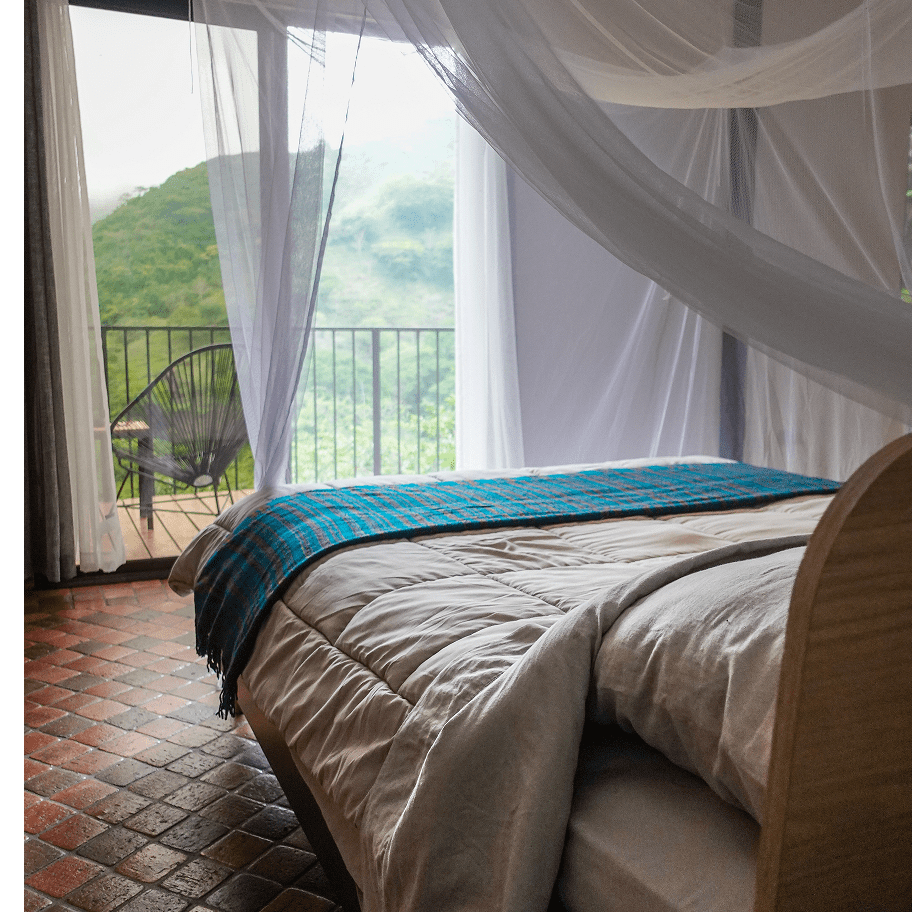 Guest Room
1 person 1000 USD
2 people 1600 USD
3 people 2000 USD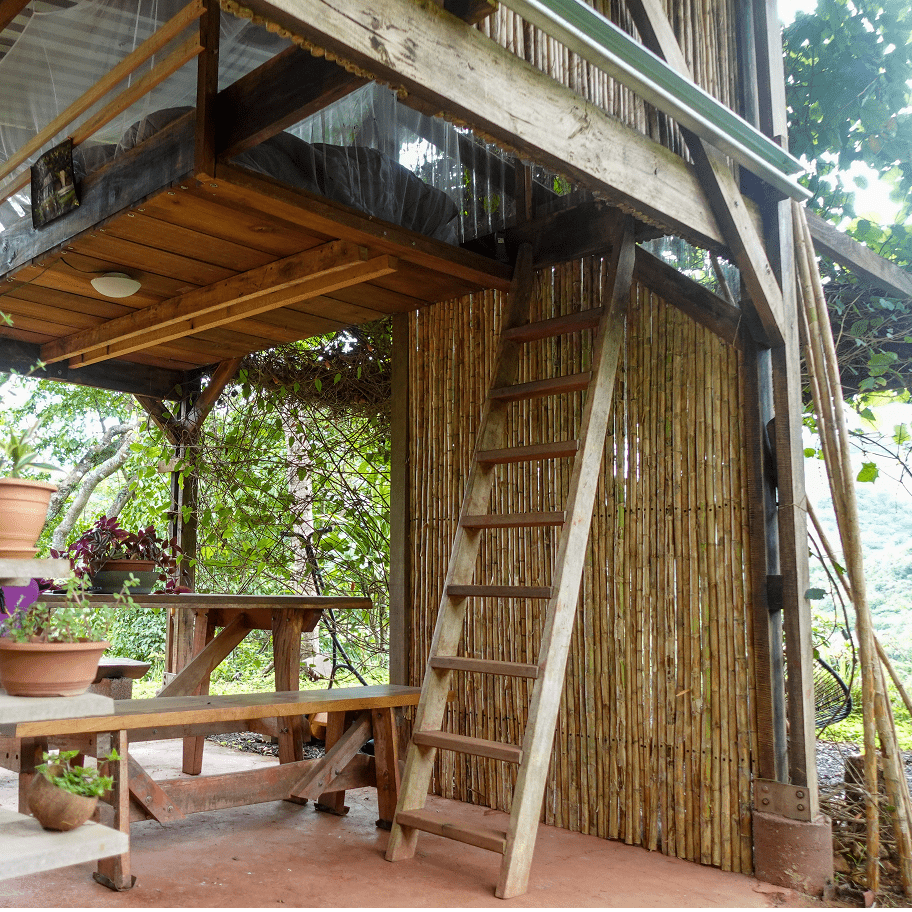 The Rancho
1 person 600 USD
2 people 1000 USD



---
Design Your Own Retreat
Another way to stay at Jungle Hub is to design you own stay

Just tell us how your perfect nature retreat looks like:
how many nights (minimum 2), additional meals (you can use the kitchen to prepare you own food), which tours & extras, etc.

We will arrange something uniquely for you!
Send us a message!
We are looking forward to hosting you!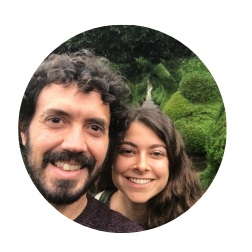 Guillermo & Manuela