Comfort & STyle in Nature
The Guest Room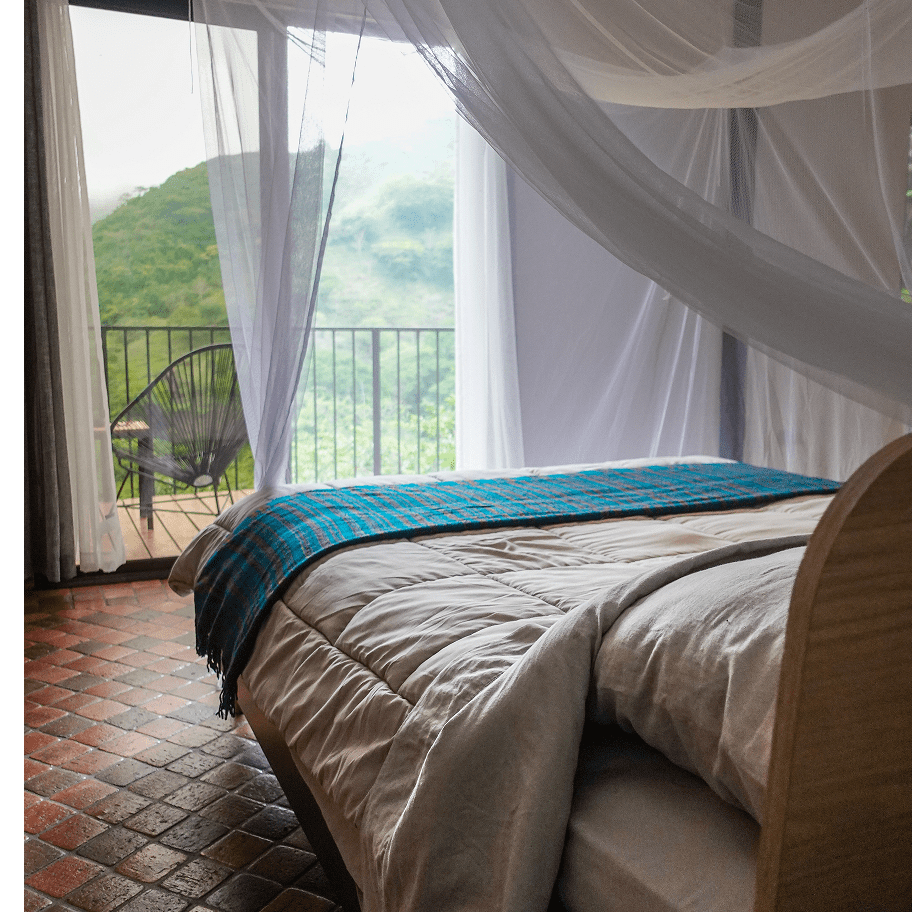 Stay at the Jungle Hub
Our guest room is a cozy and comfortable space designed to provide you with a restful and rejuvenating stay at our Nature Retreat. Nestled in the heart of lush Costa Rican rainforest, our guest room offers a tranquil escape from the hustle and bustle of everyday life.
Guest Room Features:
Spacious 40m² room with ample space to relax and unwind
Comfortable queen-sized bed with high-quality linens for a good night's sleep
En-suite bathroom with hot water shower, towels, and eco-friendly toiletries
Panoramic views of the surrounding nature from large windows
Access to a private balcony to enjoy the sights and sounds of the rainforest
Solar-powered lighting for eco-friendly and sustainable living
Free Wi-Fi to stay connected with loved ones or work remotely (although we encourage unplugging and immersing in nature during your stay!)
Separate living-room space with a cozy sofa that can convert into a bed for kids
Access to fully equipped main-house kitchen with gas stove, oven, blender, coffee-maker, and more
Complimentary farm tour and waterfall hike to experience our regenerative farming practices and the beauty of our private waterfall
Included Activities
Private Tours
Waterfall Hike
Embark on a guided tour through the rainforest to discover the hidden gem at the bottom of our property – a beautiful waterfall that boasts natural beauty and serenity. Take a refreshing dip in the crystal-clear fresh water, surrounded by pristine nature that inspires peace and tranquility. Bask in the sun and find stillness as you listen to the soothing sounds of the waterfall. It's a serene experience that will rejuvenate your mind, body, and soul.
Permaculture Farm Tour
Join us on a Permaculture Farm Tour to learn about sustainability and off-grid living in the midst of the jungle. We'll show you how we've created independent systems that allow us to thrive in harmony with nature. Witness how we've transformed once-degraded land into a beautiful oasis, complete with a food forest that hosts over 30 different species of medicinal and edible plants, and a natural swimming pond.
Manuela and Guillermo are fantastic hosts! Your finca is fantastically beautiful, you are in the middle of the mountains, you can see beautiful sunsets and an incredible starry sky. The apartment is tasteful and clean. The view – right out of bed – is breathtaking! The shared kitchen has everything you need, from a filter coffee machine to a blender. A must do is the 20 minute hike to the private waterfall at the end of the property. Butterflies and birds accompany the swimming trip. A cute dog is also included 🙂
At the same time, you can learn a lot about permaculture and sustainability from Manuela and Guillermo. The stay was a truly extraordinary experience! Thanks very much!
Guillermo and Manuela's place is truly gorgeous. We spent most of our time out by the many trails and the wonderful waterfall. Guillermo and Manuela are gems, they provide wonderful recommendations about living with the permaculture philosophy.
Discover Costa Rica's Nature
We Have Vacancy!
Experience sustainable living in the midst of a lush rainforest, complete with a breathtaking waterfall, farm-to-table vegetarian cuisine, and guided permaculture farm tours.