So far we had some of the basics dealt with: we had fresh water on demand and we had a toilet.  I love camping, but when it rained a lot I still had to sleep in the car and now I was really ready for the next step, to build the rancho! A shelter from heat and rain, a place to cook comfortably, a place to hang your hat, relax and spend the night.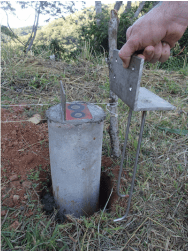 The rancho will be the headquarters, the center of operations during the first long phase of the project before the masterplan starts to take shape. The basic design involves a light wooden frame mounted on six concrete foundations to isolate the wood from the ground humidity and hold the structure tight against the forces of the wind. It features 40 square meters of shade and an elevated sleeping area that can fit two in a medium mattress.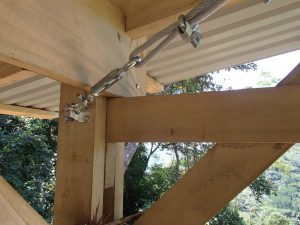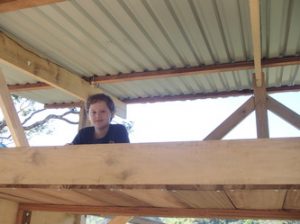 The rancho has a 30 Watt solar panel and a 100 Ah battery that power 5 12V LEDs and a charging station for electronics. This is enough power to recharge all your gear and light the rancho for about 4 hours daily. The multi-purpose rancho is now a place to sleep, cook, hang out when there are guests and even store materials.